Chocolate Protein Energy Balls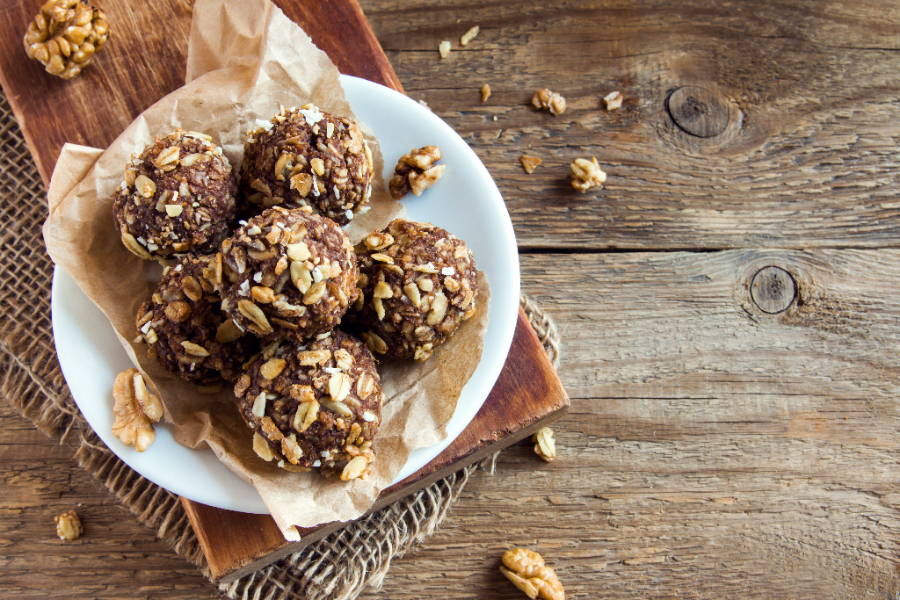 LOW CARB • HIGH PROTEIN• LOW SUGAR
These simple no bake chocolate peanut butter energy balls make the perfect snack, breakfast, or even dessert!
The are packed with protein to keep you full longer and taste like a peanut butter cookie!
 Yield: 16 balls
Cook Time: 15min
2 cups of old fashioned rolled oats

½ cup of ground flax seed

1 tablespoon of black chia seeds

1 teaspoon of cinnamon

¾ cup of dried pitted dates

½ cup of peanut butter

1 teaspoon of vanilla extract

2 tbsp of chocolate Pure Body Protein

¼ cup water

⅓ cup of dark chocolate chips
Add rolled oats, ground flax seed, chia seeds, cinnamon, dried dates, peanut butter, vanilla extract, and chocolate protein powder to food processor.

Pulse until ingredients are blended and oats are finely chopped, almost like flour consistency. (about 7-9 times)

Slowly add water to the food process and blend until the mixture sticks together. You may need to add more or less water depending on your energy ball dough.

Add mixture to a large bowl, using your hands mix in chocolate chip.

Form energy bite mixture into 1" balls and place on parchment paper lined baking sheet.

Serve immediately or store in air tight container in refrigerator.