Fried Egg with Sauteed Vegetables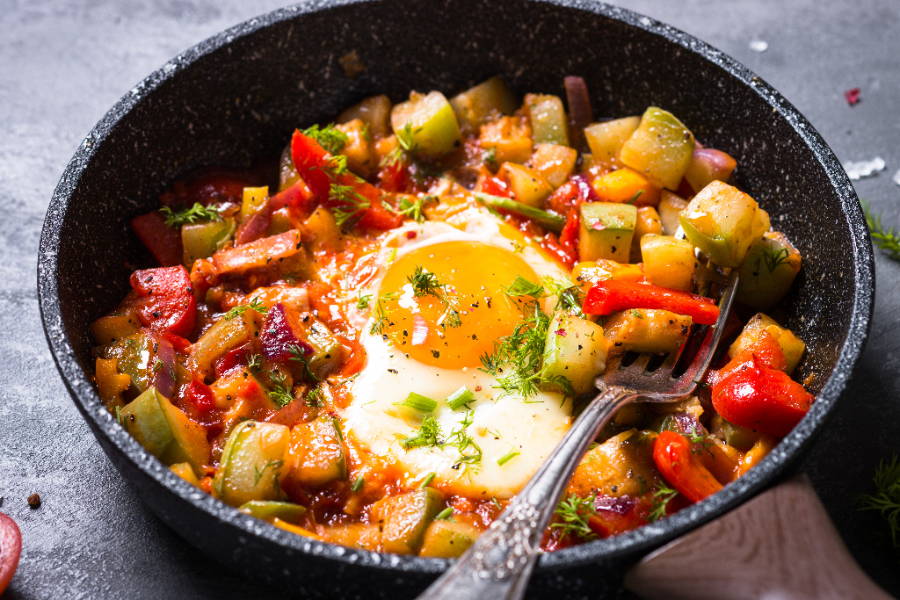 LOW CARB • PALEO • HIGH PROTEIN
With a little effort, a handful of ingredients, and less than 30 minutes, you can have this nutrient-rich meal on the table that's quick, light, and so satisfying!
Yeilds:1 serving
Cook Time: 30 min
For the roasted veggies:
1/2 large head of cauliflower, cut into florets

2 small heads of broccoli, cut into florets

1 1/2 tbsp extra-virgin olive oil

1/4 teaspoon garlic powder

1/4 teaspoon of salt

1/4 teaspoon of pepper

1/2 teaspoon red pepper flakes

juice of 1/2 lemon
For the fried egg:
canola spray or extra-virgin olive oil

1 or 2 eggs

pinch of paprika (optional)

dash of hot sauce (optional)

dash of salt
Preheat oven to 400ºF.

In a large bowl, toss cauliflower and broccoli florets in extra-virgin olive oil. Then add the garlic powder, salt, pepper, and red pepper flakes, and mix well.

Spread out your veggies on a baking sheet, and give all the florets a good squeeze of fresh lemon juice.

Roast in the oven for 15 to 20 minutes, occasionally shaking the pan.

Once your veggies have roasted for 10 to 12 minutes, heat a small nonstick skillet over medium-low heat, and give it a good spray of canola oil. Crack your egg in the skillet, and cook for about three minutes until the yolk is slightly set.

​​​​​​​

Remove your veggies from the oven, and slide them into a shallow plate or bowl.

Flip your egg, and cook for an additional 30 seconds to a minute. Keep the cook time shorter if you like a runny egg!

​​​​​​​

Carefully slide your cooked egg on top of your veggies, sprinkle with paprika, and eat up!