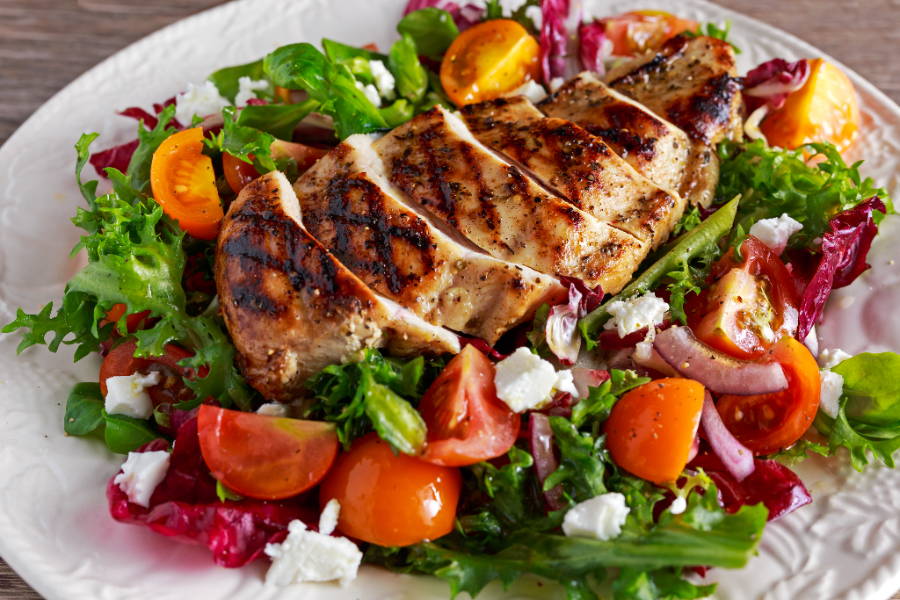 LOW CARB • HIGH PROTEIN• PALEO
Smoky charred chicken combined with juicy tomatoes and herbs in a salad that's fresh and hearty. Grilling the chicken ahead of time makes it even easier to put together!
 Yield: 7 servings
Cook Time: 1h 35min
3/4 cup extra-virgin olive oil, divided

2 tablespoons plus 1/3 cup fresh lemon juice (from 3 or 4 lemons), divided

1 tablespoon plus 1 teaspoon minced garlic (4 cloves), divided

5 boneless, skinless chicken-breast halves (10 to 11 ounces each)

2 tablespoons Dijon mustard

1/2 cup chopped fresh mint leaves

1 teaspoon coarse salt

mixed greens of your choice

Feta cheese (optional)
Whisk together 1/4 cup oil, 2 tablespoons lemon juice, and 1 tablespoon garlic. Pour over chicken, and refrigerate for 1 hour.

Preheat grill to medium-high heat or set up grill for indirect heat.

Remove chicken from marinade, and grill chicken, turning often, until internal temperature reaches 165 degrees, 15 to 20 minutes for drumsticks and 20 to 25 minutes for breasts.

Let cool, and refrigerate until ready to serve. Just before serving, cut chicken breasts into thick slices.

Whisk together remaining 1/2 cup oil, 1/3 cup lemon juice, and 1 teaspoon garlic, mustard, salt, and chopped mint in a medium bowl.

Arrange lettuce on a large serving platter. Toss chicken in dressing, and arrange on salad. Pour remaining dressing over salad.

Garnish with feta cheese if desired.