THE PURE BODY PROTEIN WEIGHT LOSS SYSTEM
Pure Body Protein aims to provide an easy and natural way for people to lose weight with our simple two step program that follows the High Protein, Low Carb science behind the Ketogenic, Atkins, Paleo and South Beach diet. Within just a couple of weeks following the program you will see a significant metabolic transformation that will leave you feeling learner, healthier and stronger for good. No calorie Counting, No Measuring, No expensive pre-packaged meals, and no starving.
Burn Fat, Not Muscle

Lower Insulin

Enable Leptin

Don't Feel Tired & Hungry Anymore!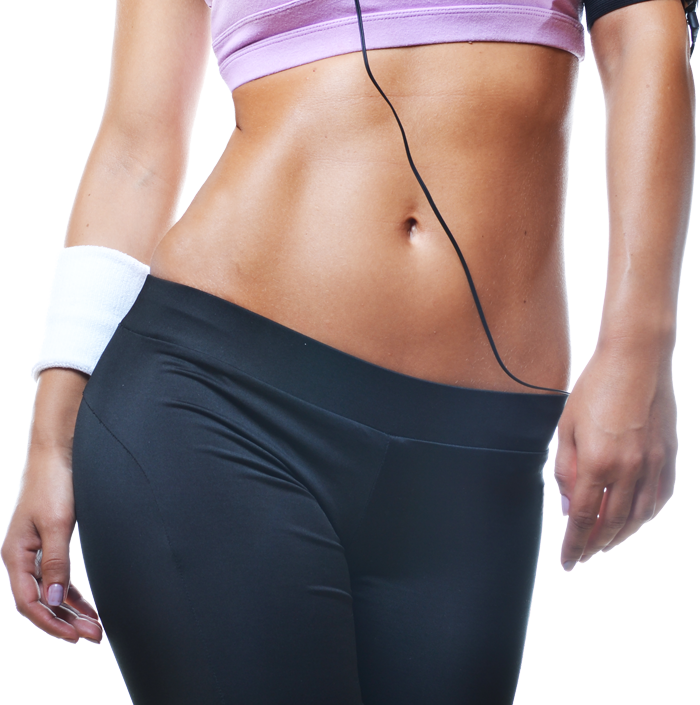 HOW A LOW CARB - HIGH PROTEIN DIET WORKS
---
Carbs and weight loss are closely related. Everyone's metabolism can use two different types of fuel for energy – either sugar (and carbs that are quickly turned into sugar by the body), or fat. But the type of fuel you burn can have a big difference in losing or maintaining weight. A typical diet reduces calories, but is still high in carbohydrates (and thus sugar). As a result, many people constantly cycle between sugar "highs" (where excess sugar is actually stored as fat in the body) and sugar "lows" (where you feel fatigued and ravenously hungry – for more carbs and sugar). For many, it's really hard to lose weight that way. It is crucial to understand that it is not HOW MANY calories you consume, but WHAT KIND of calories you consume.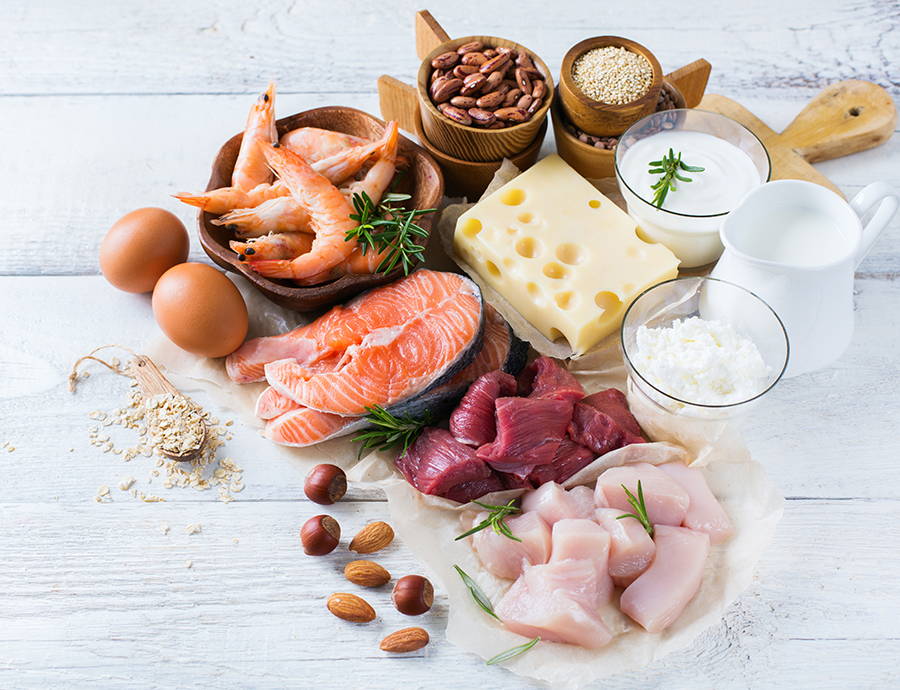 On a ketogenic diet, carbohydrates (sugar) are limited, so the body burns fat, including body fat, for fuel. This approach leaves the body steadily fueled, and weight is lost, even when more calories are being consumed. Steady fueling also means more constant energy levels all day long, and less hunger and cravings! You can actually lose weight while feeling full.
---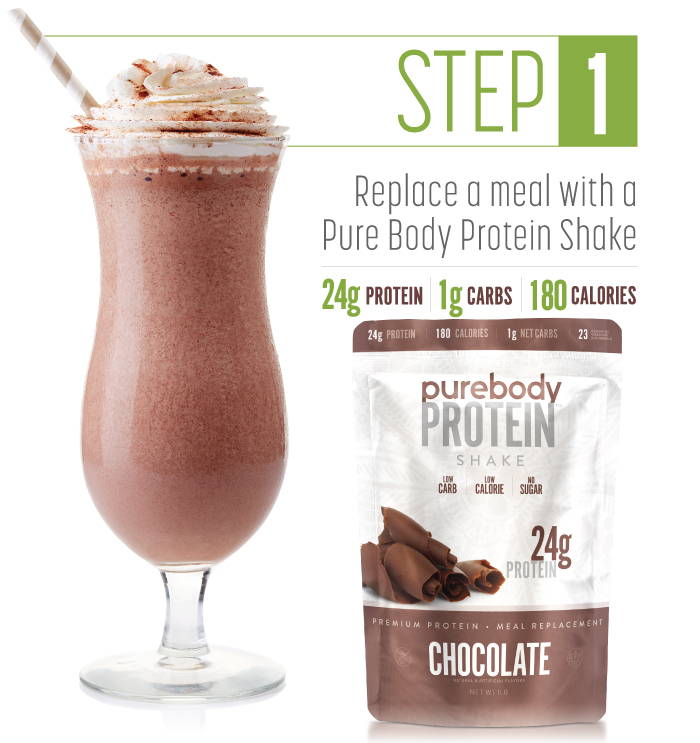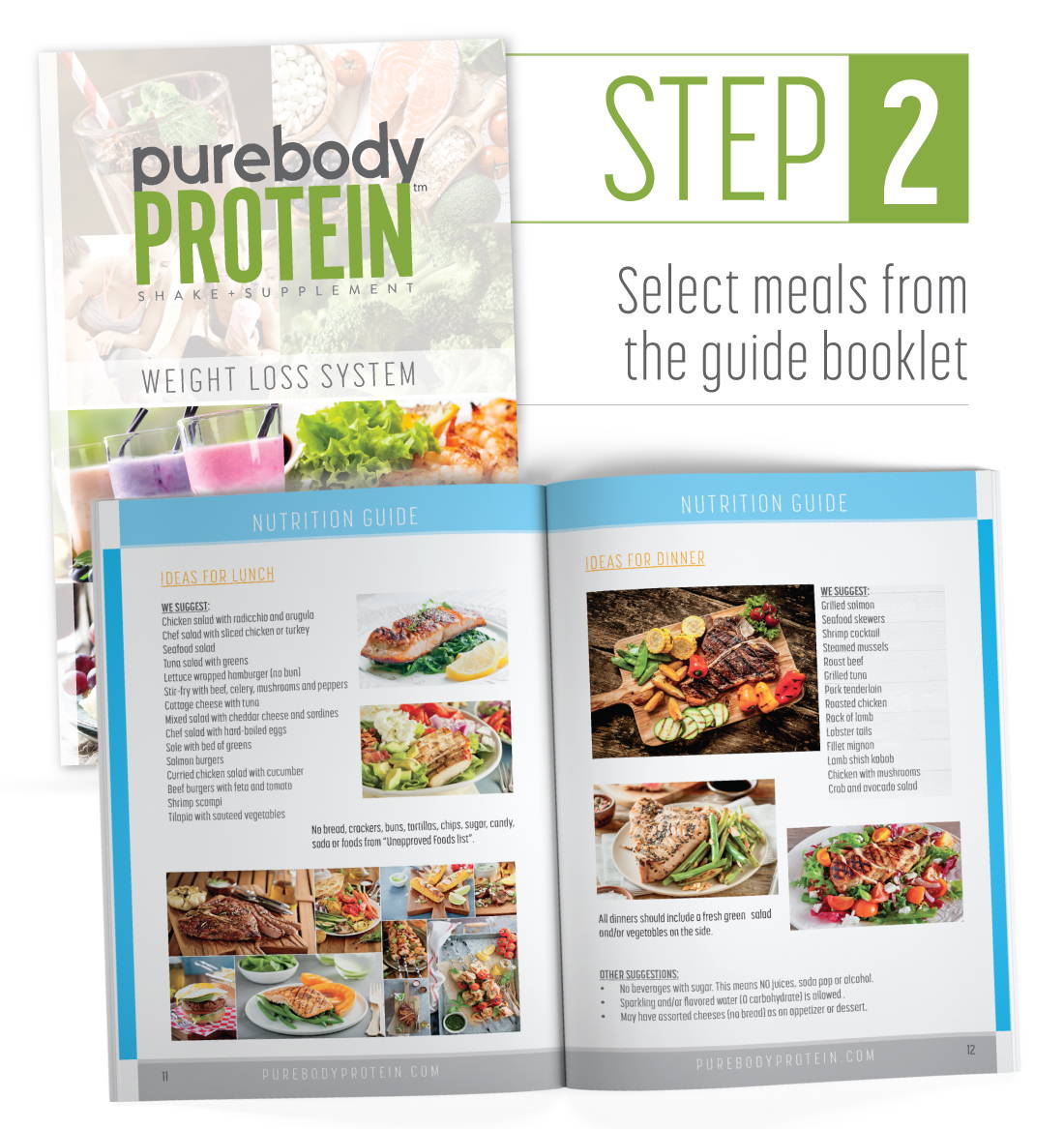 By replacing one meal a day with a Pure Body Protein shake you will be limiting your carbohydrate intake while still getting a moderate amount of protein. It will also leave you feeling satisfied for longer periods of time, putting the breaks on your appetite and reducing junk food intake. With Pure Body Protein, you'll never have to "cheat" on your diet... even though it might FEEL like you are!
You will also be eating rich and delicious food that is not typically associated with dieting. These are the high protein rich foods that Modern Science has shown to keep our bodies in the fat burning mode. Meaning your body will mobilize its fat, and burn it for energy. These foods do not necessitate large rises in insulin, thus enabling leptin to do its job de-stimulating your appetite, so you naturally eat less.
REAL FOODS. REAL RESULTS.
If you've tried quite a number of diets over the years that have not helped you improve your general health, weight and energy level, but have rather left you feeling like a failure, it might be time to consider trying an approach based on physiology — and one that actually gives real results!