Poached Eggs with Tomatoes, Swiss Chard and Chickpeas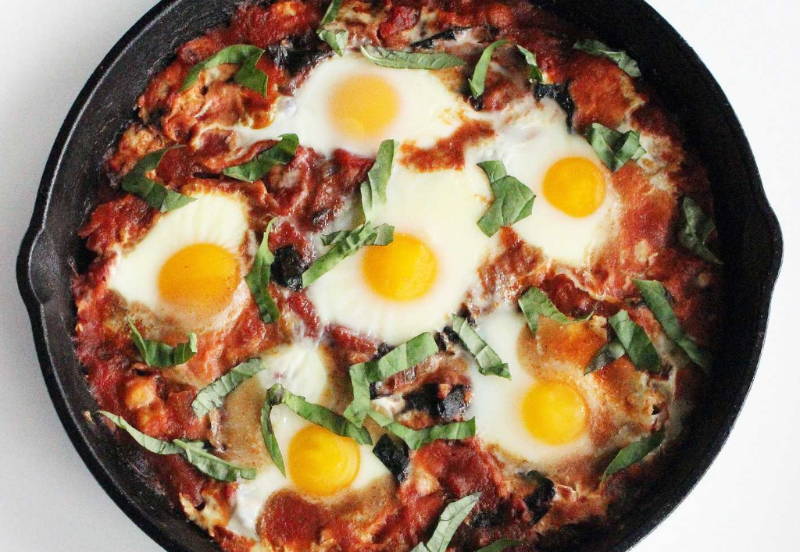 LOW CARB • HIGH PROTEIN • PALEO
If you're on the hunt for a new way to enjoy eggs, try this play on the traditional Middle Eastern dish shakshuka that satisfies as a special Spring breakfast or post-workout dinner. To amp things up in the nutrition department, garbanzo beans are added for even more protein and Swiss chard adds vitamin A, vitamin C, and iron!
Yield: 3 servings
Cook Time: 30 minutes
1 tablespoon olive oil

4 cloves garlic, minced

1 white onion, diced

1/2 cup chickpeas, drained

1 28-ounce can diced tomatoes

1 teaspoon cumin

1 1/2 teaspoons cinnamon

2 teaspoons paprika

1/2 tablespoon red pepper flakes

2 cups Swiss or red chard, chopped

6 eggs

Fresh basil, for garnish
Preheat oven to 400°F.

Heat oil in ovenproof skillet over medium heat. Add onion and garlic and sauté for five minutes. Add chickpeas and sauté for another three minutes.

Add diced tomatoes, cumin, cinnamon, paprika, red pepper flakes, and bring to a boil. Turn the heat down to simmer for 10 minutes.

Add Swiss chard and cook down for about one minute.

Make six little wells in the tomato and chard mixture, and add eggs to the skillet slowly.

Move the skillet to the preheated oven, and bake for 15 to 20 minutes or until the whites are set.

Remove from oven, sprinkle with basil, serve, and enjoy!