Seared Tuna with Green Beans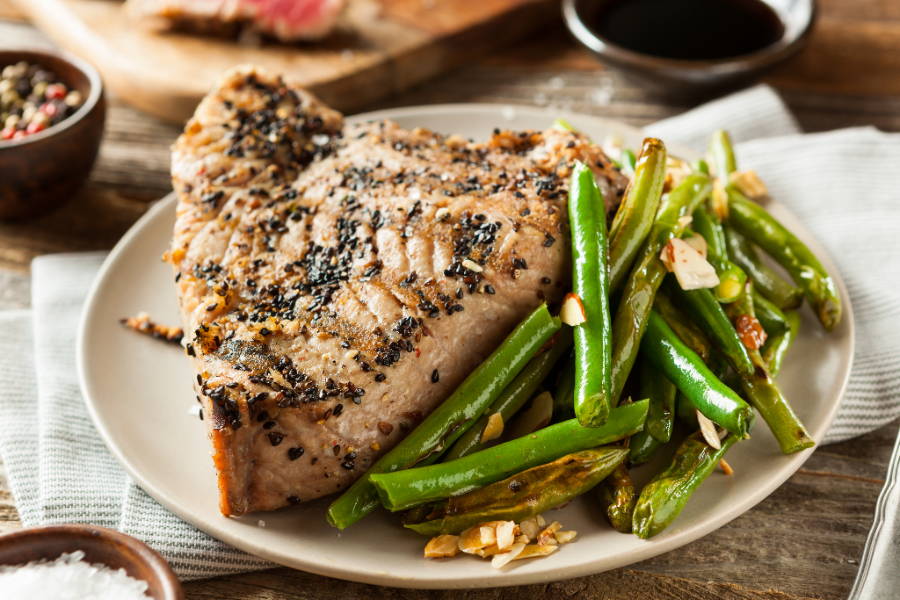 LOW CARB • HIGH PROTEIN• PALEO
This asian inspired meal manages to be both deeply flavored and light. Albacore tuna steaks are seared to perfection, then served with fresh green beans.
Perfect for an outdoor summer dinner party!
 Yield: 4 servings
Cook Time: 30 min
1/4 cup soy sauce

1 teaspoon wasabi powder

1/4 teaspoon garlic powder

4 6-ounce tuna steaks (each about 3/4 inch thick)

1 pound green beans, trimmed

1 tablespoon oriental sesame oil

1 tbsp golden brown sugar

2tbsp black toasted sesame seeds (optional)
Mix soy sauce, wasabi powder and garlic powder in 8x8x2-inch glass dish. Add tuna; turn several times to coat with marinade. Let stand 15 minutes.

Meanwhile, cook beans in large pot of boiling salted water until crisp-tender, about 4 minutes. Drain well.

Heat sesame oil in heavy large skillet over medium-high heat. Remove tuna from marinade; reserve marinade.

Sprinkle tuna on all sides with pepper and sesame seeds. Add tuna to skillet and cook until just opaque in center, about 3 minutes per side. Transfer tuna to plates.

Add green beans, sugar and reserved marinade to skillet. Cook until sauce is reduced enough to coat beans, stirring occasionally, about 4 minutes.

Using tongs, place beans alongside tuna and serve.