Skirt Steaks with Broccoli and Mâche Salad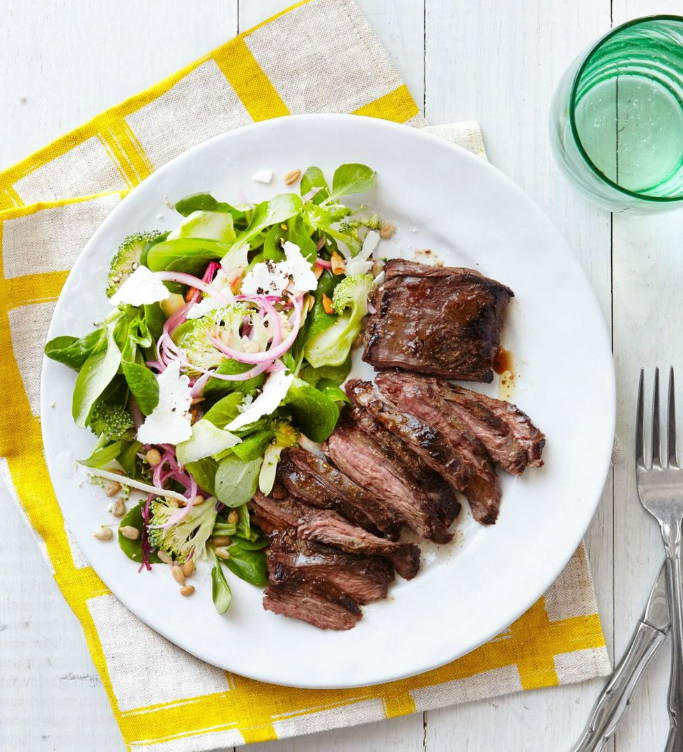 These unexpected spices and greens elevate your typical weeknight steak and salad!
Yield: 4 servings
Cook Time: 50 minutes
1/2 small red onion, thinly sliced

3 tbsp. red wine vinegar

Kosher salt

Freshly ground black pepper

5 tbsp. extra-virgin olive oil, divided

1 1/4 lb. skirt steak, cut into 4 pieces

1tsp. ground coriander

1 small head broccoli (about 1 pound), stem peeled and very thinly sliced, florets very thinly sliced

4 cups mâche

1/4 cups roasted sunflower seeds

4 oz. ricotta salata, shaved (about 1 cup)
Combine onion, vinegar, and 1/2 teaspoon salt in a bowl. Let sit, tossing occasionally, until onion is tender, 15 to 20 minutes.

Meanwhile, heat 1 tablespoon oil in a large skillet over medium-high heat. Season steak with coriander, salt, and pepper. Cook, until an instant-read thermometer inserted in the thickest part registers 130 degrees F (medium-rare), 3 to 4 minutes. Let rest 5 minutes before slicing.

Add broccoli, mâche, sunflower seeds, and remaining 4 tablespoons oil to onions and toss to combine. Season with salt and pepper.