Thai Turkey Lettuce Wraps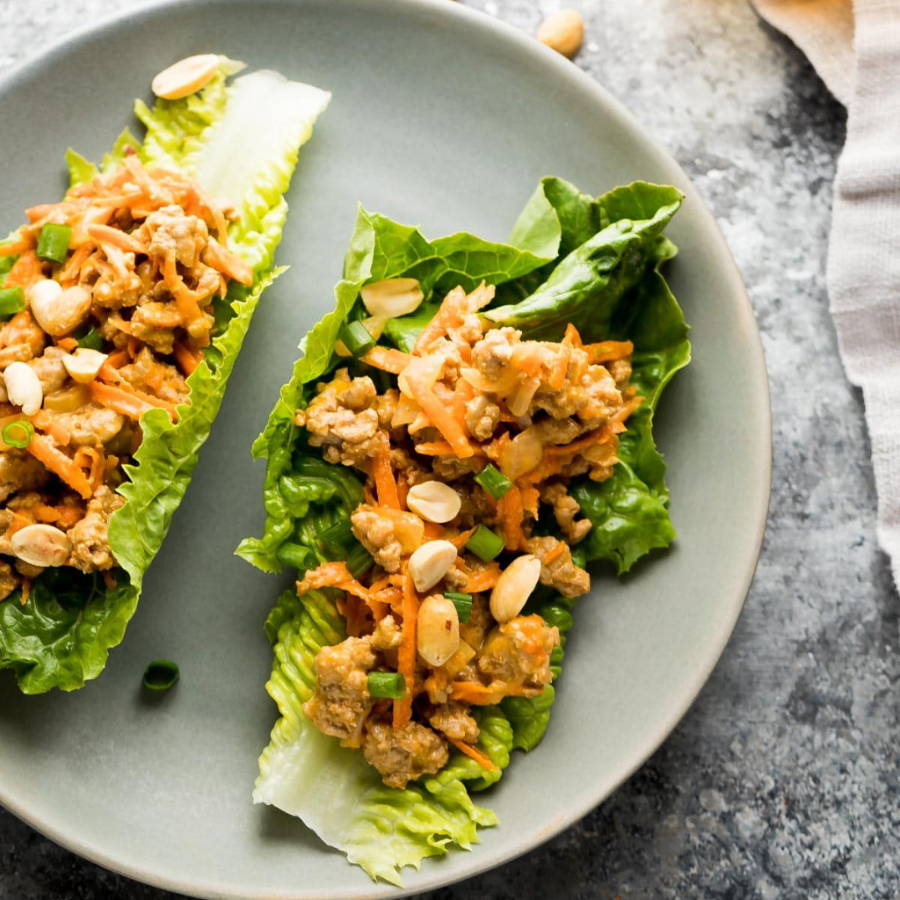 Thai turkey meal prep lettuce wraps make for an easy, low carb meal prep dinner or lunch. Prep the Thai peanut turkey filling ahead and serve on crunchy romaine lettuce leaves.
Yield: 6 servings
Cook Time: 25 minutes
For sauce:
1/4 cup peanut butter

3 tablespoons soy sauce

2 tablespoons rice vinegar

2 tablespoons water

1 teaspoon sesame oil

1 tablespoon lime juice
For filling:
1 tablespoon olive oil

1 onion finely chopped

3 cloves garlic minced

1 tablespoon Thai red curry paste

1 lb lean ground turkey

1 cup carrots shredded
To serve:
7 oz Better Romaine Leaf

green onions to garnish

peanuts to garnish
Shake together all peanut sauce ingredients and set aside.

Heat oil in a large pan and add the onions, garlic and Thai red curry paste. Stir until red curry paste is heated through and mixed in evenly with the onions (2-3 minutes).

Add the ground turkey and cook, breaking it up with a spatula, for 5-7 minutes, until no pink remains and the turkey is cooked through.

Stir in the shredded carrots.

Pour the peanut sauce evenly over the ground turkey mixture and stir to combine.

Remove from heat.

To serve: spoon ¼ cup of the ground turkey into a better romaine leaf. Sprinkle with green onions and peanuts and enjoy.

To store in the fridge:Allow ground turkey mixture to cool completely. Portion out into ½-3/4 cup portions and store in the fridge for up to 4 days.

Re-heat till steaming hot in the microwave before serving.

To freeze: Allow ground turkey mixture to cool completely, then portion out into desired serving size in the freezer.

Thaw completely before re-heating in the microwave.